Enjoy 43% off when you enter code: MYTIME at checkout.
Herbal Medicine for the Soul
An Herbal Certification Program & A Home for Your Personal Healing



What's possible...
"In under a month of working together, I was already in significantly less pain and not having to rely on pharmaceutical pain meds to get me through the day." - Christina Haskin
This is Your Invitation to Heal
Are you experiencing physical chronic pain, childhood trauma, or PTSD? Do feelings of shame and resentment haunt you and prevent you from experiencing the freedom to love and live out your life's goals? There is a natural and holistic path to healing those traumas – and you can start today. If you are ready to begin the healing process, I have an incredible experience for you.
Physical ailments and disease are directly connected to unresolved emotional traumas in the body. These traumas also affect our moods, our confidence levels, and our self-esteem provoking feelings of mental instability and inadequacy. My program will help you eliminate your physical and mental pain and unchain you from the trauma you have been carrying around in your spirit.
From Pain to Purpose
Let's start this journey of healing -- from illness to wellness, from broken to whole life. I will be with you every step of the way. In six months, you can reclaim your entire life using the following process:
Breakthrough Discoveries: The CALYPSO Healing Method™, is a proven process helping you become hyper-aware of how to change the mental patterns and triggers that are the root cause of all pain. Pain is experienced from the inside out. It happens first in the emotions, then, if not resolved, manifests in the physical. You learn to release what happened to you in the past, so that you can break the cycles of pain for good.
Healing Plant Medicine: We will teach you how to make and take the medicinal herbs to address your physical and mental pain. This process includes providing you with 55+ materia medica (comprehensive medicinal plant profiles) and guiding you through the Six Pillars of Plant-to-Person Matchmaking, so that you choose the right herbal medicines that will be compatible with you, thus actually work to restore your body to its natural state of well-being and balance.
Your Astrological Chart: Using Medical Astrology, I teach you how to interpret the energy of the planets and your natal chart, to see how the planets affect your physical, mental, and emotional well-being. With this invaluable insight, you're able to identify where your personality requires spiritual growth, prevent future illness (or at least lessen its severity), and see your constitutional health weaknesses that doctors can't diagnose.
This uniquely designed and personalized program is life-changing, and you will see and feel results throughout the process:
By Week Four: You'll experience immediate relief in your mental stability.
By Month Four: You'll feel a reduction in your physical symptoms.
By Month Six: Your mind, body, and life will be radically improved.
We strongly believe that wellness starts from within. If you believe that pain is accidental, inherited, or is separate from your mind and emotions, then this program is not for you.
If you have been struggling to find a holistic practice, formula, or remedy to help you reset your path and reclaim your personal power, let's get started! Invest in your freedom and the opportunity to live the life you know you deserve.
Herbal Medicine for the Soul is perfect for the person who craves a personal breakthrough and for the current or aspiring herbalist, medical practitioner or holistic healer who desires to gain the proper skills to use plants and the practices learned inside the program for the expansion of their holistic business. With the wisdom you gain inside Herbal Medicine for the Soul, you have the power to serve your clients in a truly holistic way.
About the Curriculum
(Watch the below video)
Plant-to-Person Matchmaking™
Learn how to choose plants that are compatible with you and your constitution, instead of your symptoms.
The CALYPSO Healing Method™
Identify and trace all physical pain back to its emotional root cause and learn step-by-step how to heal emotional wounds.
Spiritual Self-Care
You matter! Prioritize and cultivate the most important relationship you have: the one between you and You. Commit to a routine that fills your cup.
Apothecary Skills
Learn the therapeutic and spiritual benefits of 55+ plants and gain your apothecary skills: herbal preparations, correct dosages, contraindications, and formulary.
Medical Astrology
Unlock your cosmic map! Learn to interpret your natal chart to see your indicators for pain and illness as well as your soul lessons and solutions.
Certificate of Completion
Feel confident and qualifited to serve others with this skillset and knowledge. Launch or expand your holistic practice with this knowledge.
45-Plant Herb Kit
I'll ship the herbs straight to your doorstep. No shopping nonsense! Forget scouring the interwebs or going to multiple stores to find the plants you'll be working with week-after-week. For each medicine-making lab, you'll have the plants on hand, conveniently in your pantry.
7-Day Fast & Cleanse Blueprint
Detoxing is always supposed to be a spiritual exercise, not just a period where you starve yourself. Learn to fast safely and energetically cleanse and align, spiritually with this blueprint.
Get clear instructions on what to eat and drink during the fasting period as well as reflection exercises to keep you focused on your spiritual intention. Retain your nutrients and feel more energized with minimal detox side-effects.
Trigger Calm Down Workshop
Learn how to stay grounded in the present moment instead of getting snapped back into the horrors of a past situation or memory. In this workshop, you'll get the step-by-step process for remaining calm and centered when traumatic memories resurface.
Becoming An Herbal Entrepreneur Business Series

I'm even going to help you start your professional practice, develop your herbal product line, adhere to manufacturing and FDA regulations, and teach you marketing principles to help you make your holistic business sustainable.
Enjoy 43% off when you enter code: MYTIME at checkout.
READY TO JOIN US INSIDE HERBAL MEDICINE FOR THE SOUL?
Online Learning
Herbal Medicine for the Soul Mentorship has been 100% virtual and flexible since its inception in 2018. Unlike with many other programs that rushed to go online during the pandemic, Herbal Medicine for the Soul was designed for online learning that's flexible and fits in with your life.
Each week, you'll receive 3 video lessons (Lecture, Lab, Materia Medica). You'll be able to flow through the curriculum according to your own schedule and life's demands. Whether you're an early-riser, night-owl, or have to study while the kiddos are doing their own learning, you'll be able to comfortably learn at your own pace.
Community Calls
Every Thursday we meet live over Zoom at 2:00pm Eastern time for group calls (they are all recorded and available for replay access forever). During this time, we do community check-in, tarot readings, Q&A, workshops, case studies, and learn from guest speakers. This is a collaborative learning space for everyone in the program to explore new topics and to practically understand how to develop holistic protocols that alleviate people's health concerns.
Currently, we have a portfolio of over 86 clinical case studies that you can use as a foundation for healing yourself and helping those in your community. Case study conditions include gallstones, Lupus, diabetes, ADHD, anxiety and depression, bi-polar, fibromyalgia, Crohn's Disease, PCOS, endometriosis, pregnancy, postpartum and fertility, grief, establishing healthy boundaries, and more.
Students can also volunteer to be in the Hot Seat, a time where we specifically address your personal health issues, discuss the emotional root causes, analyze your natal chart, develop herbal formulas according to your constitution, and discuss other bodywork, therapies, vitamins, and lifestyle changes that would be supportive for you.
Get a Sneak Peak of What's Inside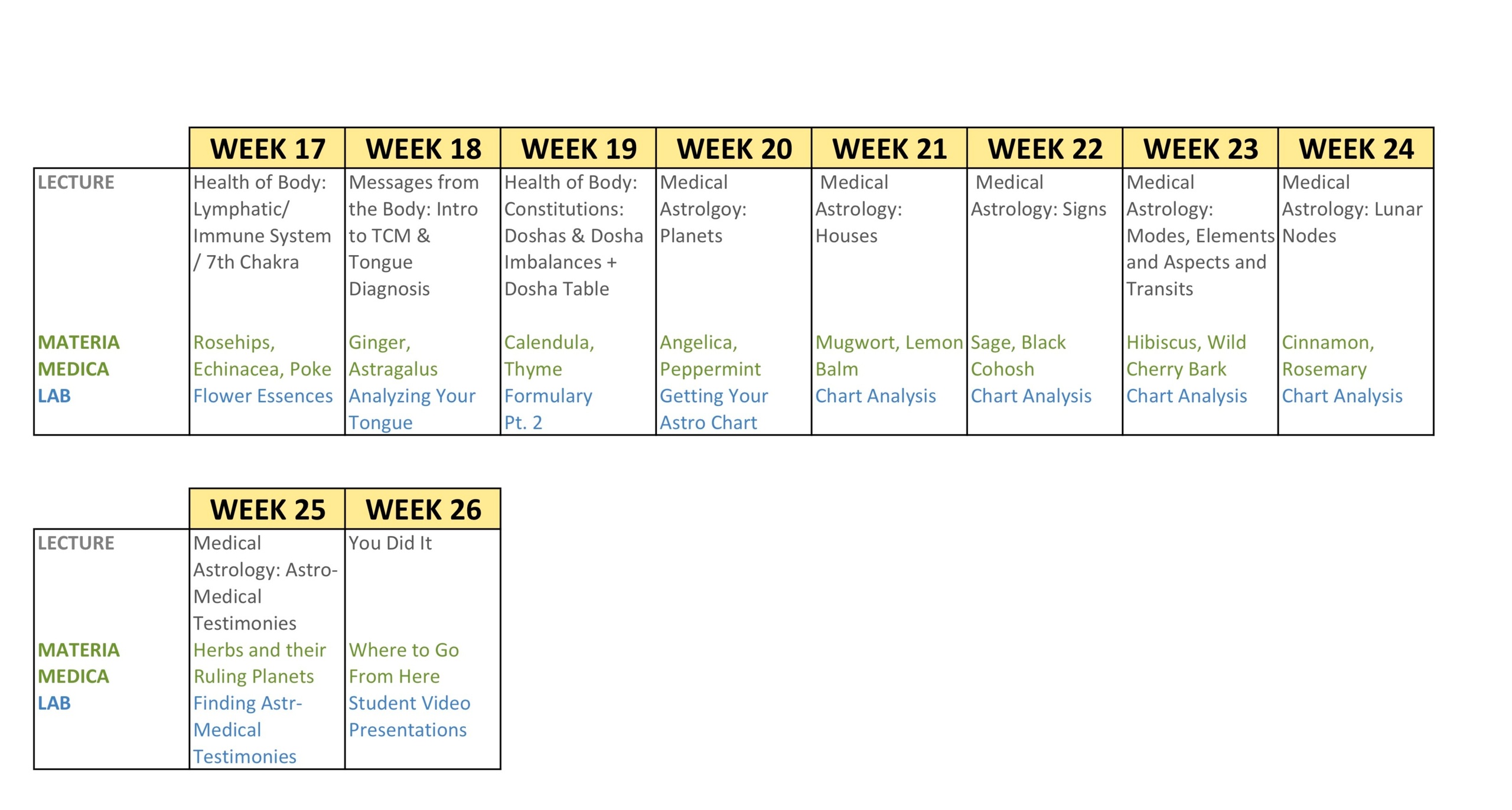 M. Nelson
"Selima gracefully helped me to understand the emotional aspects of my life that needed healing in order to counter the negative physical manifestations that were occurring. I have made major breakthroughs in my relationship and am not plagued by anxiety. With the herbs I'm also successfully controlling my blood pressure, which was a major concern. I'm balancing the day-to-day. Instead of being distracted, I'm focused on my purpose and goals."
J. Ah Sam
"The course is helping me get to the roots of things way better, and I am encouraged at what this process is helping me do as far as honing my intuition and making decisions to set better standards and boundaries for myself in my everyday interactions. I value the emphasis you put on realizing that health is all-inclusive and radiates to all other areas of your life vs. just taking an extra-strength Tylenol for a headache that occurs after arguments."
A. Brown
"This herbalism class has been the absolute best. Selima is so knowledgeable on plants and the connection to your birth chart and always has the best energy. She pushes you to be your best and shows you how to use plants to your advantage so that you can heal yourself and take control of your life. I appreciate everything that she has shown me and all of the knowledge that I've gained. Selima is a gem and you won't regret taking her course."
"I love Selima's holistic approach to working with plants: spirit, mind, emotions, body. I have taken programs that focus mostly on the body and the physical, and I always felt like something was missing. Finding Herbal Medicine for the Soul was a breath of fresh air. Herbal Medicine for the Soul has helped me gain more confidence as an herbalist to heal myself and share herbal remedies with others. Thank you Selima for creating a space for me to connect to my spirit and build deeper relationships with myself and the plants." - N. Ricco
"I want to thank you for being you. You and Tami are answered prayers for me!!! I admire you so much and so grateful to be a student.
...you have solutions to many problems, even mine. That's very rare in a just deal with it culture!!
The herbs are amazing!!!! It turns me into a "lighter" person. It allows me to step into who I am truly meant to be and forces me to get out of my own way!!!
You are a blessing to my life!!!!! Thank you so much for being obedient to whatever called you to herbalism!! I am forever grateful!"- A. Howard
"When I found myself in the midst of a major emotional disturbance, I knew I needed more support than I could muster up within myself alone. I reached out to Selima because I know her caring, healing nature, and I needed help. It was one of the best decisions I ever made. She got to know my struggles and made a plan to help me reclaim my power and reclaim my joy. She had faith in me and extended her patience, herbal skills, and spiritual practices to give me comprehensive guidance. Her teas, tinctures, and herbal candies help fortify my body with the nutrients needed to assist in my total healing. Our talks are always productive and I've been able to call upon practices she's taught me like going into my "cocoon" from time to time to recharge my mind and body to try again. This healing journey is lifelong but the help of Iwilla Remedy, I know my power is in my hands and my joy is within reach every day. I am so thankful for you and I feel in my body that I am in a better place now than when we started." -D. Ellington
Hi! I'm Selima…

Since 2012 I, along with my wife Tami Lust through our company Iwilla Remedy, have helped thousands of people make breakthroughs in their health. By teaching my clients to incorporate herbal remedies and to address the emotional root cause of illness, I empower people to live pain-free and BigPharma-free lives.
Iwilla Remedy's medicine has touched over 10,000 households worldwide and through our courses, we have taught over 5,000 students. We help people overcome chronic health frustrations, feel more youthful, alleviate persistent health woes, and commit to healthful-habits.
I am dedicated to helping people, like you, get out of pain, so you can focus on the better things in life: your calling, your family, your purpose, and your passion. Inside Herbal Medicine for the Soul, I will teach you how to travel the shortest distance from pain to healed using holistic practices, herbal medicine, and my wife and I's signature process, The CALYPSO Method™.
Hi! I'm Tami…
The CALYPSO Healing Method™ is a systematic approach to breaking down your issues, dismantling your assumptions, and seeing your projections. The only thing you can control and change is yourself and with our method, we put the spotlight on you.
As a master systems generator and optimizer, I'm here to help you navigate life's big and small issues. From weight loss, break-ups, and partnership communication, to parenting, people-pleasing and low self-worth, I have coached hundreds of people through their obstacles.
With the CALYPSO Healing Method™ you are accepting an invitation to become more aware of your emotions and to work with facts, not assumptions in order to achieve more balance and to improve the relationship you have between you and You. By incorporating this method into your daily life you will quickly begin to see the cycles that you can change, which are holding you back. You'll start making better in-the-moment decisions to move through your issues faster and therefore become the person you want to be, sooner.
Enjoy 43% off when you enter code: 1LOVEMYSELF at checkout.
READY TO JOIN US INSIDE HERBAL MEDICINE FOR THE SOUL?
30-Day Money-Back Guarantee
If you join Herbal Medicine for the Soul, follow our CALYPSO Healing Method for 30 days, participate in the Q&A Calls and group feedback, implement and complete the action steps and don't see results, we will provide extra coaching support to help you feel better or issue you a 100% refund if we decide we cannot help you reach your wellness goals.
Enjoy 43% off when you enter code: MYTIME at checkout.
Enjoy 43% off when you enter code: MYTIME at checkout.
Who is Herbal Medicine for the Soul for?
What if it takes me a long time to complete the course?
Will this prepare me to help others?
How can I interact with the other students in the program?
Do you have closed captioning and transcriptions available?
Do I need any special materials or equipment?
What kind of results have your students seen?
How much time should I devote to my studies?
What if astrology conflicts with my religious beliefs?
Will Herbal Medicine for the Soul help with my specific health issue?
HAVE MORE QUESTIONS? BOOK A CALL WITH SELIMA
Schedule a free Wellness Strategy Session here to chat with me personally and discuss how Herbal Medicine for the Soul can (or cannot) help you. Please be sure to read this page carefully before we talk. I'd like to use our time to answers your questions, not review the program benefits, which are all outlined on this page. These calls are not consultations.